#Tacticcustom Imaginary Collective 2021
You might not be familiar with the name Imaginary Collective and you could be mistaken for thinking that it is an American race team. Imaginary Collective is a brand set up by Andrew Dahlheim and TJ Eisenhart which allows the freedom to express themselves and to fuel their passion for bike racing.
We caught up with TJ to talk about bikes, art and his inspiration. Coming from a background of road racing with BMC, the U.S National Team and Pro Continental squat Holowesko-Citadel, TJ clearly was a talented endurance athlete. His hometown of Lehi sits in the Zion National Park in Utah, where you'll find endless dusty singletrack. But it wasn't until he got his mountain bike while at BMC that he discovered the freedom of mountain biking.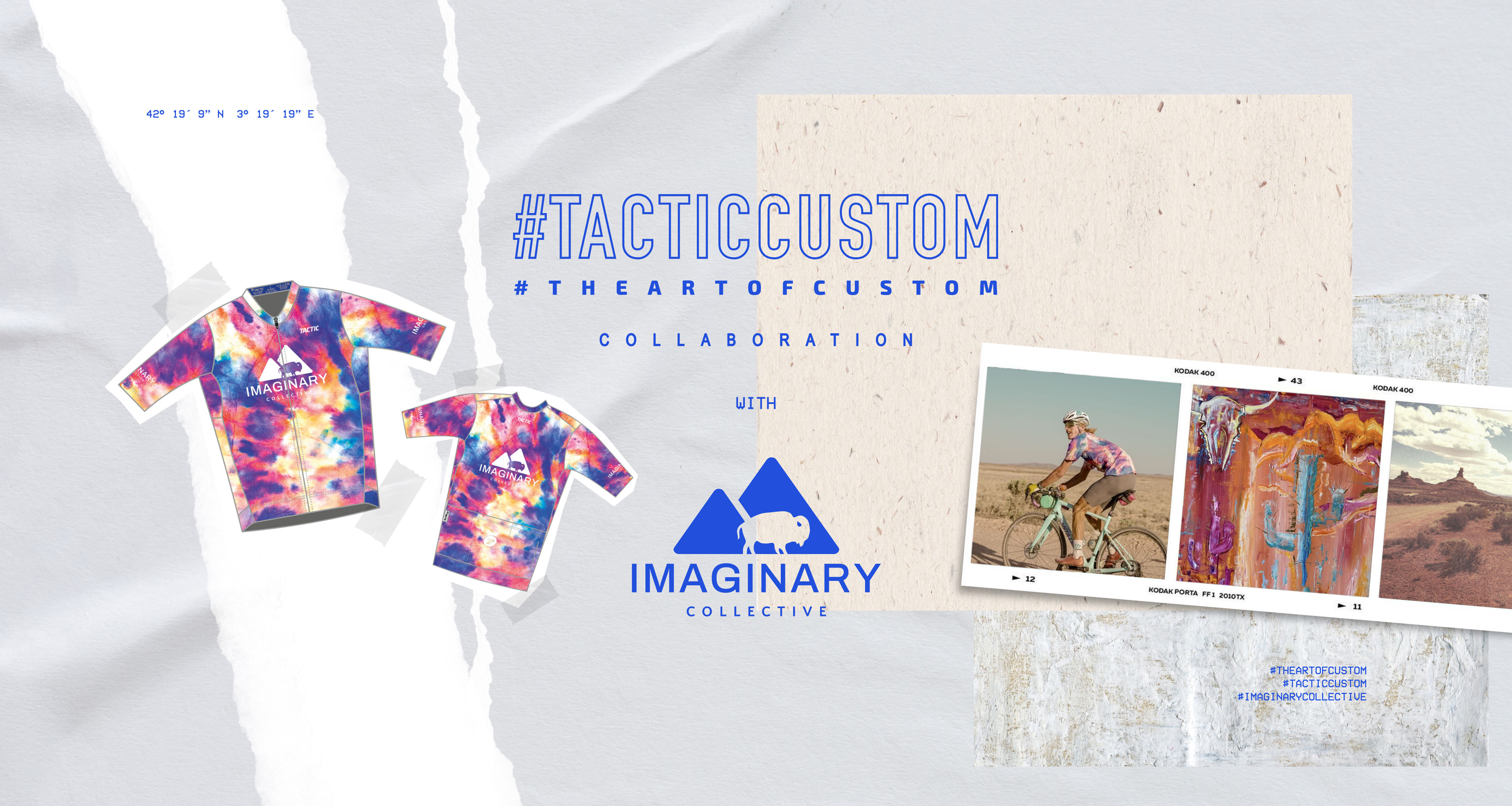 TJ explains that at Imaginary Collective, we don't follow others and we don't follow the rules. He and Andrew have been taking part in gravel and mountain bike events across the U.S. If you look at the colours of their latest jersey, it's clear that they don't follow the crowd.

You can see the same colours in TJ's art. The inspiration behind these colours is positivity TJ tells us. "It comes from my positivity. Avoid negativity, and always have positivity." Which is reflected in his personality. The results are amazing.

Imaginary collective sets out to preach a new vision and to act as a vehicle for creativity. The U.S gravel scene is still young and is being moulded by the people at the forefront. There are no rules about what you have to wear and the atmosphere seems a stark contrast to the road scene that TJ and Andrew broke away from. As a brand they've designed a range of cycling kit, accessories and apparel. The cycling kit is produced by Tactic.
| | | |
| --- | --- | --- |
| | | |
When we spoke TJ had just completed a painting inspired by the moose he saw whilst out mountain biking in the Aspens. His work as an artist is being recognised with some top commissions meaning that he can ride for the love of it.

One of the two events that stand out for TJ most is the Belgian Waffle Ride. At the BWR, riders camp out, race gravel in the hills of San Diego on a 215km course and mandatory beer afterwards with a much more relaxed scene than any other type of endurance sport out there.

Although the gravel bike is king in terms of speed, for TJ, the mountain bike is tough to beat for it's ability to go anywhere. The terrain around Utah is some of the most demanding and let's him jump straight into endurance mtb events.
You can check out the newest creations from Imaginary Collective on their Instagram @imaginary_collective and follow TJ's riding, racing and art on his.